2011, Vol. 6 No. 1, Article 78
Idiopathic Pericardial Effusion in Dogs - A three year study
K. Satish Kumar, V. V. V. Amruth Kumar, P. Nagaraj, and D. S. Tirumala Rao
Department of Veterinary Clinical Medicine
College of Veterinary Science, Rajendranagar Hyderabad – 500 030,
Andhra Pradesh, India
*Corresponding Author; e-mail address: dr_petlover@yahoo.co.in
---
ABSTRACT
Out of 811 dogs referred to Veterinary Hospital Bhoiguda of Hyderabad, 28 dogs of various breed and sex were found positive for idiopathic pericardial effusion (IPE). Highest prevalence was noticed in male Labrador retriever of 7.5 yr. Exercise intolerance, dyspnoea at rest, weakness, ascites, cough, anorexia, pallor mucosa, cyanotic mucosa, syncope following exertion or exercise and peripheral edema were the clinical signs at the time of presentation. Low voltage QRS complexes with electrical alterans, enlarged globular heart were noticed. No significant changes except hypoechoic to anechoic (echo – free space) area between the epicardium and pericardium were noticed on echocardiography. Pericardiocentesis along with frusemide and ramipril was found efficacious in treating the IPE with out any recurrence for six months.
KEY WORDS
Pericardial effusion, dogs.
INTRODUCTION
Pericardial disease is relatively rare among the various acquired cardiac diseases of dogs. Most pericardial diseases are manifested as an accumulation of fluid within the pericardial sac, known as pericardial effusion. The frequent causes of pericardial effusion in dog are cardiac hemangiosarcoma, idiopathic pericardial effusion and chemodectoma, which results in sanguinous effusion leading to right sided heart failure (Shaw and Rush 2007). Although clinical signs may appear suddenly, most cardiac diseases are chronic in nature that leads to inadequate cardiac output to meet the perfusion and exercise tolerance. This paper puts on record about the details of signalment, clinical manifestations and results of various diagnostic investigations and therapeutic aspects of pericardial effusion in 28 dogs.
MATERIALS AND METHODS
Dogs of various breed and sex presented to Veterinary Hospital Bhoiguda, College of Veterinary Science, Hyderabad (2006 to 2009) with the history and signs related to heart failure were included in the study. They were subjected to physical, electrocardiographic (on right lateral recumbancy) and radiological examination (left lateral exposure) using BPL Cardiart 1608 and Siemens X-ray unit, respectively. Presence of canine heart worm was also tested by heartworm antigen test using Agen CHW® kit. Selected dogs were further analysed by echocardiography, using micro convex Array C5-2 R13 cardiac probe on Ixos vet ultrasound / Doppler machine supplied by Esoate Pie Medicals, Netherlands, to confirm pericardial effusion. Further, haematological (TLC, TEC, Hb, and PCV) and biochemical parameters (CKMB, LDH, ALT, TP, Alb, BUN, creatinine, Na, K and Cl) were also estimated in pericardial effusion dogs. All the dogs were treated with frusemide @ 2mg/kg, po for 15 days and ramipril @0.5 mg/kg, po for 30 days. The physical activity of the dogs was limited and they were kept on a restricted sodium diet. Pericardiocentesis was performed in 21 dogs which were refractory to medicinal therapy. The aspirated pericardial fluid was subjected for pH assessment to distinguish idiopathic pericardial effusion from neoplastic effusion.
RESULTS
Out of 811 dogs referred from various small animal clinics in and around Hyderabad to small animal cardiology ward of Teaching Veterinary Clinical Complex, Bhoiguda, College of Veterinary Science, Rajendranagar, Hyderabad, 28 dogs were diagnosed for pericardial effusion.
Of the twenty eight cases, 13 were Labrador retriever, 6 Doberman pinschers, 5 German Shepard and 3 Spitz and 1 Great Dane. The mean age at presentation for Labrador was 7.5 yrs (range from 6 to 13 years); 7.9 years (range from 7 to 11 years) for Doberman pinschers; 7.0 years (range from 6 to 11 years) for German shepherd; 6.6 years (range from 5 to 9 years) for Spitz and 6.0 years for Great Dane.
The clinical signs evident at presentation were exercise intolerance (98%), dyspnoea at rest (78%), weakness (64%), ascites (38%), cough (33%), anorexia (31%), pallor mucosa (21%), cyanotic mucosa (18%), syncope following exertion or exercise (18%) and peripheral edema (17%). Cardiac auscultation of all the patients revealed muffling sounds and murmurs. Electrocardiography was performed in 25 dogs. Electrical alterans was documented in 8 dogs; low voltage QRS complexes less than 1mV in lead II was documented in 09 and less than 0.5 mV in 04; ventricular premature complexes in 02 cases and ventricular tachycardia in 02 dogs. Cardiomegaly with a globular cardiac silhouette was evident in 24 dogs and pleural effusion was present in 04 dogs. Echocardiography showed hypoechoic to anechoic (echo – free space) area between the epicardium and pericardium in both B-mode (fig. 1) and M-mode (fig. 2) echocardiograms. Further, no discrete mass associated with atria, ventricle or the aorta was detected on echocardiography. The haemogram of pericardial effusion dogs was anemic with a mean total erythrocyte count (4.52 + 0.18 x 10 6/ ul), haemoglobin (7.10 +1.22 g/dl) and packed cell volume (32.20 +0.22 percent). Where as, the mean creatine kinase MB (52.28 +2.62 u/l), lactate dehydrogenase (132.50 + 4.36 u/l) and sodium (148.82 + 0.22 mEq/l) was elevated with a decline in total proteins (4.46 + 0.04 g/dl) and albumin (2.40 + 0.32 g/dl). However, heartworm detection test revealed negative result.
Improvement in physical activity, appetite, generalized condition with absence of cardiac murmurs, cough and dyspnoea was noticed after few days of initiation of therapy. Pericardiocentesis was performed in lateral recumbancy at the level of costrochondral junction of 5th intercostal space using a 20 gauge butterfly catheter. The fluid aspirated was clear, odorless and transparent with pH ranging from 6.10 to 6.60 in all the dogs suggestive of idiopathic pericardial effusion. Same therapy was followed after pericardiocentesis for 15 days resulted in clinical recovery.
DISCUSSION
Clinical manifestations, physical, radiographic, electrocardiographic and echocardiographic aspects of the present study were in accordance with the reports of Johnson et al. (2004) and Shaw and Rush (2007)..
Labrador retriever showed highest incidence (46.42 %), followed by Doberman and German shepherd and the mean age at presentation was 7.18 yrs. Cobb and Brownlie, (1992) reported Golden retriever as commonly represented breed followed by Labrador, German shepherd with the mean age of onset 6 years in dog of different breeds . During present study the majority of dogs, mainly males had idiopathic pericarditis which corroborate the findings of Matthiesen and Lamerding, (1983) and Shaw and Rush (2007). The presence of ascites and collapse on presentation remained significant prognostic indicator. Coughing, which was not conventionally considered a feature of pericardial effusion, was noticed in 33 percent of cases. Coughing may occur due to a greatly distended pericardial sac pressing on the airways (Bjorling and Keene, 1989). In several cases, coughing was noted to be the first sign of a recurrence of pericardial effusion following therapy.
Anemia, hypoprotenemia and hypoalbuminemia observed in many cases could be associated with congestive heart failure or effusions into body cavities and is not specific for pericardial effusion. The lowest pH range of pericardial fluid observed in the present study is in agreement with Fine et al. (2003) who suggested that the measurement of pericardial fluid pH could provide a little justification as a diagnostic test in cases of pericardial effusion.
Radiographically global enlargement of a well defined cardiac silhouette may be evident which demonstrates cardiomegaly and was useful in the diagnosis of pericardial effusion. Radiology was an insensitive means of distinguishing the cause of effusion, although the technique was occasionally useful in the detection of pulmonary masses, which might represent metastases from a primary cardiac tumor (Johnson et al., 2004). Electrocardiographic examinations confirmed the findings of earlier studies that ECG has a low sensitivity in the diagnosis of pericardial effusion. The QRS complexes may be of diminished voltage, presence of electrical alternans caused by swinging of the heart within the effusion and elevated S-T segment are the important electrocardiographic abnormalities of pericardial effusion (Cobb and Brownlie, 1992). Echocardiography is the most sensitive method of differential diagnosis of pericardial effusion from cardiomegaly due to primary cardiac disease, especially dilated cadiomyopathy and to identify any primary intrapericardial mass lesions. To assess the presence of a mass on echocardiography it was essential to perform the examination from right parasternal position to visualize all cardiac regions particularly the heart base (Vicari et al., 2001).
Diuretic therapy should be used with caution in cases exhibiting signs of congestive heart failure since their use may result in further reduction in ventricular filling. Pericardiocentesis appears to be of therapeutic value in the management of pericardial effusion patients which are refractory to traditional therapy as the procedure provides immediate relief of cardiac tamponade. Pericardiocentesis will relieve any tamponade and drainage of the effusion usually results in prompt resolution of the clinical signs over next few days (Shah and Rush, 2007a)
From the present findings it may be concluded that pericardial effusion is commonly noticed in male dogs of an average age of 7.18 yrs and Labrador retriever being the more susceptible breed. Echocardiography is the more sensitive means of diagnosing pericardial effusion, particularly to differentiate the different acquired cardiac diseases which cause cardiomegaly on radiograph. A part from the conservative therapy, pericadiocetesis helps prompt resolution of cadiac tampanode.
REFERENCES
Shaw, S. P. and Rush, J. E. 2007, Canine Pericardial Effusion: diagnosis, treatment and prognosis. Compend. Contin. Educ. Vet. 29(7): 400-403.


Shaw, S. P. and Rush, J. E. 2007a, Canine Pericardial Effusion: Pathophysiology and cause. Compend. Contin. Educ. Vet. 29(7): 405-411.


Bjorling, D. E. and Keene, B. W. 1989, Canine Pericardial Disease. Companion Anim. Pract. 19, 9 – 15.


Cobb, M. A. and Brownlie, S. E. 1992, Intra pericardial neoplasia in 14 dogs. J. Small Anim. Pract. 33, 309 – 316.


Fine, D. M., Tobias, A. H. and Acob, K. A. 2003, Use of pericardial fluid pH to distinguish between idiopathic and neoplastic effusions. J. Vet. Intern. Med. 17 (4): 525-529.


Johnson, M.S., Martin, M., Binns, S. and Day, M. J. 2004, A retrospective study of clinical findings, treatment and outcome in 143 dogs with pericardial effusion. J. Small Anim. Pract. 45, 546 - 552.


Matthieson, D.T. and Lammerding, J. 1983, Partial pericardectomy for idiopathic hemorrhagic pericardial effusion in the dog. J. Am. Anim. Hosp. Assoc. 21, 41 – 47.


Vicari, E.D., Brown, D.C., Holt, D. E. and Brockman, D. J. 2001, Survival times of and prognostic indicators for dogs with heart mases: 25 cases. J. Am. Vet. Med. Assoc. 219, 485 – 487.
FIGURES


Figure 1. B-mode Echocardiogram showing fluid accumulation in pericardial sac (PE)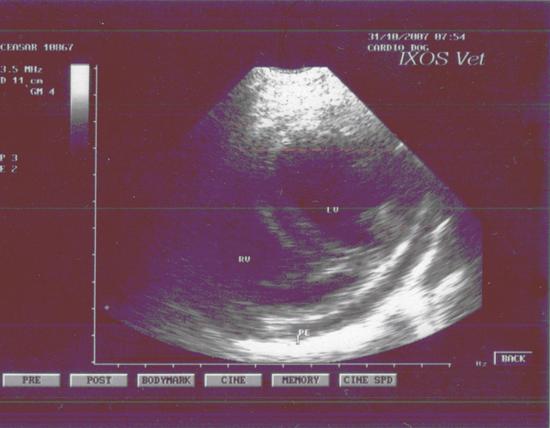 Figure 2. M-mode Echocardiogram showing pericardial effusion (PE)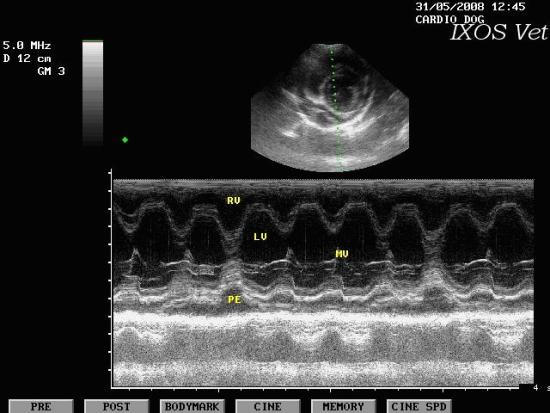 F