2011, Vol. 6 No. 1, Article 84
Cystic Endometrial Hyperplasia in Algerian Goats and Ewes
Benchaib Fatima
Veterinary Sciences institute, Ibn Khaldoun University. Tiaret, .Algeria
*Corresponding Author; e-mail address: benchaibb@yahoo.com
---
ABSTRACT
Histopathological examination was performed on ten uterine samples of goats and ewes collected from Tiaret abattoir . Cystic endometrial hyperplasia were detected in two cases was associated to granulosa cell tumor in ewe and to cystic ovarian degeneration in goat. Microscopically, an increase of the number and the size of the endometrial glands and cellular infiltration were observed.
Cystic endometrial hyperplasia can lead to permanent infertility in domestic animals by preventing implantation or fertilization.
KEY WORDS
Cystic endometrial hyperplasia, goat, ewe.
INTRODUCTION
Cystic endometrial hyperplasia is a progressive and pathological endometrial expansion caused by an increase in the size and the number of endometrial glands (Feldman and Nelson, 1996).
This condition may develop endogenously secondary to follicular ovarian cysts or granulosa cell tumors. Excessive or prolonged hormonal (estrogen or progesterone, or both) stimulation play a role its initiation (Mc Entee, 1990). Grazing on pastures with estrogen-containing plants may constitute a predisposing in ruminants, especial ewes.
The aim of the present study was determine the occurrence of cystic endometrial hyperplasia in ewes and goats, in Algeria.
MATERIALS AND METHODS
Ten uterine samples of goats and ewes having prominent lesions were collected from Tiaret abattoir.. Samples were brought to the laboratory and tissue of affected samples were fixed in 10 percent formalin, routinely processed and embedded in paraffin wax. Sections cut at 5µm thichness were stained with hematoxylin and eosin (H&E).
RESULTS
In goat
Grossly, three large follicles were present on the right ovary and two in the left one. (Apart from their greater size, the follicular cysts were difficult to distinguish from normal follicles). The absence of corpus lutea in the ovaries was noted. The uterus was edematous and flabby. The cervix was enlarged and contained tough gray-white mucus.
In ewe
Grossly, the tumor surfaces were smooth and the incised surfaces consisted predomantly of cysts of varied size .The uterine wall was thick and spongy. Some submucosal cysts bulged into the lumen of uterus.
Light microscopic observations (LM)
Microscopically, cystic dilation of the endometrial glands and an increase of their number were observed.
The endometrium was infiltrated by viable and degenerate neutrophils, lymphocytes, and plasma cells admixed with little cellular debris and was expanded by many irregular cystic and hyperplastic glands (Fig. 1) and (Fig. 2). The glands were lined by either normal, hyperplastic or attenuated epithelium.
DISCUSSION
Histopathological examination of ten uterine samples of slaughtered goats and ewes revealed two cases of cystic endometrial hyperplasia. It was associated to granulosa cell tumor in sheep and cystic ovarian degeneration in goat.
Endometrial hyperplasia with subsequent infertility has been reported in animals grazing on pasture legumes with high estrogenic activity. Cows that had access to exogenous sources of estrogen, developed follicular cysts, or ovarian estrogen–secreting granulosa cell tumors (Kennedy, 1993).
In ewes, few to large numbers of colorless raised, transparent, and variably sized cysts widely distributed throughout the uterus (more commonly the superficial layers of the endometrium have been grossly described, (Bennets, 1946).
Cystic glandular endometrium has been earlier reported with low incidence (0.21%) of cystic glandular hyperplasia of goat uteri that were collected from a slaughter house Grossly, one uterus was slightly thickened with pale mucous membranes, whereas the other uterus had numerous small, 4 mm in diameter, translucent cysts diffusely scattered on the endometrial surface. Histologically, these cysts were irregular and variably sized and shaped endometrial glands had a single lining of flat epithelial cells and contained necrotic debris, a condition has been related to hyperestrogenism in goats, (Ramachandran, 1984).
In large ruminants, such as cows, cystic endometrial hyperplasia is usually because of prolonged estrogenic stimulation, (Kennedy, 1998). Endometrial hyperplasia is associated with prolonged estrogenic stimulation (hyperestrogenism as seen with ovarian follicular cysts and with granulosa cell tumors), (Mc Entee, 1990) and (Jubb , 1985).However, studies conducted on abattoir materials by Adams, (1975). during March to May, when ewes were not grazing oestrogenic pasture revealed presence of macroscopic cysts in the uterus or cervix of (32.7%of samples. Microscopic lesions, including uterine or cervical cysts and squamous metaplasia or goblet cell hyperplasia of the epithelium were observed in 76% of ewe uterine samples studied
Endometrial hyperplasia is probably an exaggeration of the normal proliferative changes of the endometrium in response to ovarian hormones,(Cabane et Bonenfant, 1980).
In the bitch, prolonged progesterone stimulation is the major factor in the induction of endometrial hyperplasia.
Histological examination performed by Zaher,(2005).on uterine biopsy samples of irregular cystic masses noted during caesarean section of a 2-year-old female Boer goat. revealed multifocal erosions of the superficial epithelium and multifocal infiltration of the endometrium by widely scattered viable and degenerate neutrophils, lymphocytes, and plasma cells admixed with mild amounts of cellular debris and hemorrhage. The endometrium was markedly expanded by many irregular cystic and hyperplastic glands
Cystic endometrial hyperplasia has also been described in association with pituitary adenoma and Central Nervous System signs in a goat, (Miller, 1997).
Cystic endométrial Hyperplasia was associated to granulosa cell tumor in ewe and cystic ovarian degeneration in goat of Algeria.
ACKNOWLEDGEMENTS
Authors are thankful to the staff members of National Research Centre on Yak I.C.A.R., Dirang, Arunachal Pradesh for their help during the research work.
REFERENCES
Adams N.R., 1975 A pathological and bacteriological abattoir survey of the reproductive tracts of merino ewes in Western Australia . Aust Vet J. 1975 Jul; 51
(7): 351- 4.


Bennetts HW., 1946 A specific breeding problem of sheep on the subterranean clover pastures in western Australia . Aust Vet J 22: 2–11.


Cabanne F., Bonenfant J.L., 1980 Anatomie pathologique, Maloine éd., Paris.


Feldman EC., Nelson RW., 1996 Cystic endometrial hyperplasia/pyometra complex. In: Canine and feline endocrinology and reproduction, ed. Feldman EC, Nelson RW, 2nd ed., pp. 605–618. WB Saunders, Philadelphia, PA.


Jubb K.V.F., Kennedy P.C and Palmer N., 1985 The female genital system in: K.V.F. Jubb, P.C.Kennedy and N.Palmer (ed.) Pathology of domestic animals. Vol.3, 3rd Ed., Academic Press, New York, 305-377


Kennedy PC, Cullen JM, Edwards JF, et al., 1998 Tumorlike lesions of the uterus. In: Histologic classification of tumors of the genital system of domestic animals, 2nd Series, pp. 34–35.Armed Forces Institute of Pathology, Washington, DC.


Kennedy PC, Miller RB., 1993 The female genital system. In: Pathology of domestic animals, ed. Jubb KVF, Kennedy PC, Palmer N,4th ed., pp.374–385. Academic Press, San Diego, CA.


Mc Entee K., 1990 Reproductive pathology of domestic animals. Academic Press, San Diego, CA.


Miller CC, Williamson LH, Miller-Liebl DM, Thompson FN., 1997 Lactation associated with acidophilic pituitary adenoma,pheochromocytoma, and cystic endometrial hyperplasia in two goats. J Am Vet Med Assoc 210:378–381.


Ramachandran K, Lyer CPN, Nair KP., 1984 Pathological conditions in the bursa, salpinx, and uterus of does. Kerala J Vet Sci 15:112–117.


Zaher A., 2005 Endometritis and cystic endometrial hyperplasia in a goat. J Vet Diagn Invest 17:393–395
FIGURES
Fig. 1: Cystic endometrial hyperplasia in goat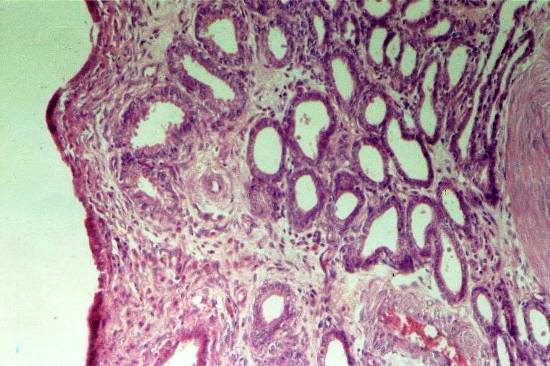 Dilation of the endometrial Glands and cellular infiltration, (HE, x25).
Fig. 2: Cystic endometrial hyperplasia in ewe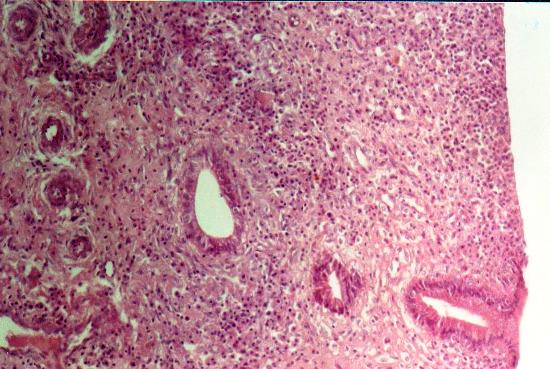 Endometrium is expanded by variably cystic irregular hyperplastic glands. (HE, x25);